Future of Mobile
Although we can't know exactly how the future of mobiles will be, there still are some companies and organizations which make their assumptions. They agree that smartphone traffic will boost by eightfold and designs will not look anything like the current ones. 
Future smartphone traffic
Ericsson anticipates that by 2020 there will be more than 6 billion of smartphones around the world. It also anticipates that by 202, 90% of children aged sin years will have a mobile. This research was made taking into account the data of the use of smartphone during five years, valorizing active users divided into groups of 5 people, and taking into account the United Nations' data of growth and the development of population in normal conditions.
Furthermore, the Chinese technological giant, Huawei, the second largest manufacturer of telecommunications equipment, estimates that there will be more than 8 000 billions of user with smartphones by 2025, due to the development of ICT. By then, all these devices, which have internet connection, will add up to the existence of 100 billion of computers and terminals interconnected by a worldwide network.
What will the future mobiles be like?
Daniel Burrus, the American futurist, business advisor, author, and frequent speaker about business strategy and innovation, proposed six aspects which will change radically the nature and design of the intelligent telephones:
– 3D screen.
– Applications of biometric verification.
– Capacity of acting like a credit card.
– Capacity of serving as a personal assistant.
– Modality of smartphones without screen.
– Hyper-connectivity.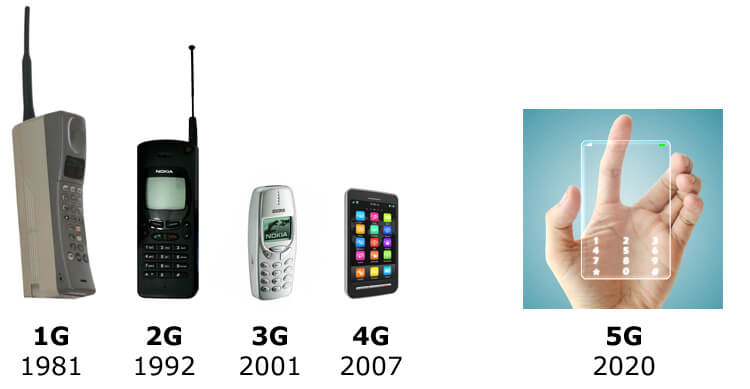 Furthermore, Rich Green, global chief of Nokia technology, explained in his project called Morph that the confluence of nanotechnology, biology and telephony will provoke that mobiles can change their colors and appearance in a single click. He also explained that mobiles will be as light as paper and their screens will be flexible. Smartphones will be able to be bended or stretched to become into a tablet.
Mobile innovations forecast
On the one hand, Juniper Research suggests that there will be nearly 200 billion of eCommerce transactions by 2019, up from 72 billion this year. This is due to the launch of Apple Pay and other new solutions based on Host Card Emulation technology.
On the other hand, according to a report published by GSMA, it is estimated that by 2018, 35% of cars sold globally will include mobile technology, whereas 18% of them will integrate smartphones and 9% will offer tethering solutions. They also estimate that by 2025 all or almost all the new cars put into circulation will be supplied with any king of connectivity.
Summing up, smartphones will control the society and there will be no longer simply devices, but they will become essential parts of our lives: futurologists are convinced that they will be integrated under our skin and in our brain to control our actions and movements.